Thrifty Car Rental Destinations in United States
Thrifty Car Rental in United States
All Car Rental Destinations in USA
I upgraded my car so that I had a GPS_ this was explained to me by the person issuing me the car and stated a GPS was included. Due to the 2 hour wait in getting the car we did not check this until we arrived at our first destination. I was very disappointed as we were travelling to Denver_ Colorado and a GPS was required. We ended up paying for data on our mobile phone for the 2 week trip costing us an additional £6 a day (£56) as we were from the UK.
Cars were not always cleansed well. Also i had full insurance with you and the company explained that it was not visible.
The waiting time 2 hours at 10am. When I return the car 8pm I saw a longer waiting que. But may be it was also in others companies
I was told that I would receive a detailed invoice/receipt by email_ but have not received one.
Customer service by Raye was very good and friendly. Makes you want to come to SAN again.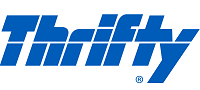 Brilliant
Based on 765 ratings
---
Get instant access to all Thrifty car rental locations in USA and find rates as Low as Possible for your Car Rental