Thrifty Car Rental Destinations in Oman
Thrifty Car Rental in Oman
All Car Rental Destinations in Oman
The car_s equipment was very basic - but it had A/C and Tempomat so it was good enough after all. Car was clean and big enough.
GPS was included but one embedded in the car required 5G so we had to buy SIM card to have google maps. Otherwise everything else was ok.
Car was brand and type as described_ but 5 years old_ 130000km_ and was probably used for towing. Service was great_ friendly and helpful people in Muscat.
Only comment to be added is following: when booking was done via your web site was talking way too long time to get the final confirmation. As booking was done rather last minute (1 day before my departure to the destination) I actually received your final feedback just minutes before boarding the plane. Opened chat with your customer team and they were indeed trying to help_ however as far as I understood there was no response from actual rental car provider.. So this was quite a stressful situation which I would like to avoid in the future.
I(t all worked OK. Tyre pressures were very low_ and in common with other providers there is no allocated area for car returns. Overall we were pleased and there were no surprises.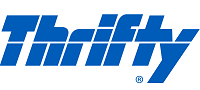 Very Good
Based on 10 ratings
---
Get instant access to all Thrifty car rental locations in Oman and find rates as Low as Possible for your Car Rental