AutoUnion Car Rental Destinations in New Zealand
AutoUnion Car Rental in New Zealand
All Car Rental Destinations in New Zealand
Please disable or remove toll boxes_ the beeping is annoying and could cause a driver to be distracted and crash. Please inform people 0800 numbers may not work from an overseas phone and to use the phone in the airport Please email a reminder regarding drop off prior to drop off Please give an eta rather than a _back in 25 minutes sign_ Lovely people and service at a challenging time.
I am very confused as I thought I paid for full insurance when I made the booking. When I picked up the car I was told the insurance is not covered and had to pay $100 for full insurance and $250 bond. So my question is why was I charged insurance at time of booking? How do I get a refund for any insurance I was charged at booking?
Very professional and very friendly I will always come back for business
Very helpful. Drop off to airport service was great. Also car was a hybrid which was great.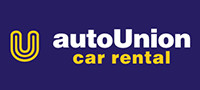 Excellent
Based on 45 ratings
---
Get instant access to all AutoUnion car rental locations in New Zealand and find rates as Low as Possible for your Car Rental