AutoUnion Car Rental Destinations in New Zealand
AutoUnion Car Rental in New Zealand
All Car Rental Destinations in New Zealand
The return address was changed and I was not notified. I had to drive around for a while to find the new location. It was not easy to find.
The only downside to my rental car experience with this company was the short office hours. Many overseas flights arrive well before 8 a.m. when this office opens. After a long flight_ it_s not pleasant having to wait two hours before you can reach someone in the office and then wait again for the shuttle to pick you up to take you to the rental car location. At the end of the rental period_ the office doesn_t provide a shuttle back to the airport after 4.20pm. This often means a long wait at the airport for your flight. Despite this_ everything went very well with the car and I will definitely use this company again.
Generelt rigtig fin service
navette inexistante à notre arrivée donc on a dû prendre un taxi _lieu pour prendre la voiture fermée.on a attendu 8h00 l'ouverture du portail . mais autrement tout s'est bien déroulé et le personnel TOP.
I have not received my $200 back from the hold on my visa on my car return_ am waiting for it to put back into my visa account_ it was Tuesday I returned car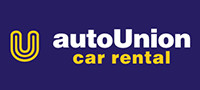 Excellent
Based on 194 ratings
---
Get instant access to all AutoUnion car rental locations in New Zealand and find rates as Low as Possible for your Car Rental