Carwiz Car Rental Destinations in Greece
Carwiz Car Rental in Greece
All Car Rental Destinations in Greece / Greek Islands
Very basic car_ no car play_ not clean_ friendly staff_ a lot of damages on the car from previews rentals so must carefully document everything before pick up.
We weren't impressed with the level of customer service compared with other car companies we have used
Difficile d'identifier la personne qui nous attend à l'aéroport
Personalen borde veta att det tar längre än 20 min.efter laddningen tills att kunden kan bli anträffbar.
Δεν κατάφερε ο υπάλληλος να μου εξηγήσει ποιές καλύψεις ήταν στάνταρ στο συμβόλαιο και ποιές οι επιπλέον _ όσον αφορά το ασφαλιστήριο του αυτοκινήτου .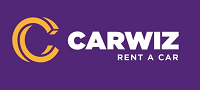 Very Good
Based on 141 ratings
---
Get instant access to all Carwiz car rental locations in Greece / Greek Islands and find rates as Low as Possible for your Car Rental